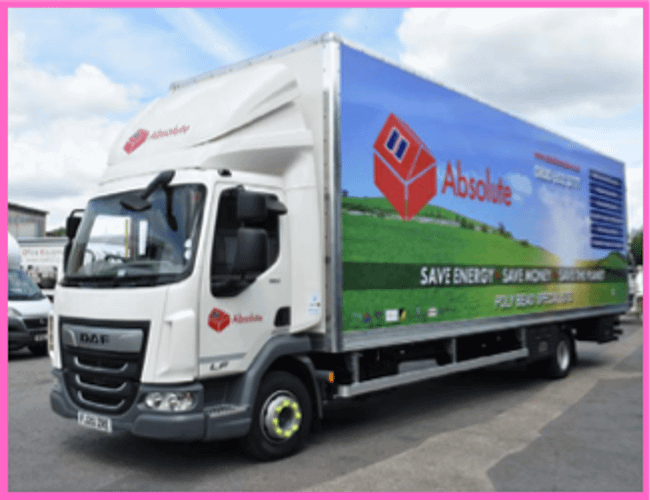 Absolute Solar is a family-run business based in Leicester. We are an award-winning installer of tried and tested domestic renewable technology and energy saving solutions, from solar panels to cavity wall and loft insulation. Absolute Solar provides advanced renewable technology for homeowners and new builds throughout the Midlands and beyond.

Absolute Solar's mission is to save energy, save their clients' money, and ultimately, save the planet. Find out more about Absolute Solar on their website: www.absolutesolar.co.uk

Absolute Solar selected Alltruck to replace their fleet of older 3.5 tonne vans. We the growth in demand for energy saving and renewable technologies from the Governments new green grant starting in September 2020 it was time improve the logistics of installation poly bead insulation to new build homes. With the help of Alltruck's experts, who came up with the solution of the above modified 10 tonne DAF LF 180 which provides almost four times as much storage space for their poly bead insulation, making Absolute Solar's cavity wall insulation operation much more efficient.
Absolute Solar upgraded the fleet inline with their values of "save energy, save money, and save the planet", with the way they carried out their work. To achieve this, Absolute Solar wanted an improved and efficient transportation solution. We anticipate that the new truck system will be safe, comfy and fuel efficient.
The Absolute Solar brief to Alltruck was to make their poly bead insulation process more streamlined and efficient. Together, this is the solution Alltruck came to Absolute Solar with:
One 10 tonne DAF LF 180 with a 30ft long box body and excellent fuel efficiency.
A custom-made box body designed and produced at our Loughborough Bodyshop.
A false wall inside the box body with a space of 62 cubic metres behind it for the poly beads to be stored in.
A special ladder storage compartment to keep it neat inside the box.
Attractive livery, designed by Absolute Solar and our livery partner, AR Signs.
Spacious day cab with an air suspended driver's seat, arm rest, soft-grip steering wheel, automatic gearbox, air-con and Adaptive Cruise Control – all with driver comfort in mind. For safety, the truck has Lane Departure Warning, Forward Collision Warning and an Advanced Electronic Braking System.
Maintenance and servicing of Absolute Solar's new truck will be carried out by Alltruck plc.
The new solution brings Absolute Solar's vision to life.
By opting for a 10 tonne vehicle allows Absolute Solar to have a greater payload to play around with and, most importantly, an increased cubic capacity in the box. Instead of a 22ft body that would have been fitted on the 7.5 tonne chassis, they now have a 30ft body.
This means that Absolute Solar can now carry 62 cubic metres of poly bead insulation in their new truck – almost four times as much as they could carry in their vans!
Oliver Martin, Absolute Solar's Operations Director, gave an example of how having this truck would improve their day-to-day work. He said that if Absolute Solar were providing a poly bead insulation solution to new houses on a large building site in Birmingham, they would usually allocate around 10 days to work there and expect to be driving to-and-fro a couple of times a day. However, with this new truck, that very same job would be completed in just 3 days, with one run to the site each day. Much more efficient!
Even though this new vehicle is slightly bigger and heavier than their current vans, the DAF LF has optimised powertrains, which means it provides industry-leading fuel economy. This will mean that Absolute Solar will not only minimise their carbon footprint, but they will also be keeping their fuel costs low.
Because Alltruck plc are here to offer guidance, and deal with all the truck's maintenance (including MOT's, inspections and servicing), Absolute Solar can focus on what they do best – providing fantastic renewable technology solutions to homes across the nation.
Like to learn more about Absolute Solar and the new Government Grants of up to £5,000 per house (£10,000 for low income homes), for improving your energy efficiency or installing new renewable technologies, then contact us now.