The next generation of renewable energy technology for the home combines the efficient energy conversion of free solar energy (the solar effect was first discovered by Edmund Bequerel in 1839). Solar panels save home owners money by generating renewable energy for your home. Solar panels only generate electricity during the daylight hours. So by storing spare electricity using battery smart storage to use in the evenings and early morning when most people use most electricity save you money.
Solar Panel Technology
Modern Solar PV panel system consists of a series panels each of which consists of photovoltaic material sandwiched between two semi-conductive materials. When sunlight hits the panels, the semi-conductive materials energise, producing a direct current. This direct current is then passed through an inverter, where it is converted to alternating current, providing the same power as you draw from the national grid. This renewable / green electricity can then be used to power your domestic appliances. panels today can be up to 20% efficient in converting sunlight into electricity.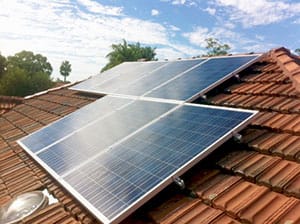 The latest advancement to this model is the introduction of domestic storage of solar electricity in a battery for later use within the home.
Smart Battery Technology
A battery works by storing electrical energy in the form of chemical energy, which can then be converted back into electricity. A battery consists of two terminals, (anode and cathode, separated by an electrolyte). Whilst the battery is charging, the electrons flow from the cathode to the anode, and whilst discharging they flow in the opposite direction. This causes a current, allowing you to use your solar energy when you need it, instead of when it's generated.
This shift enables all the solar power a home generates to be stored and used (and any excess to be exported back to the grid), saving money on grid power particularly at peak energy times such as early morning and early evening, which have higher charges.
Battery storage is not just a chemical cell charging and discharging, but many such as Prime Hybrid Energy battery storage systems are smart battery systems. That means that the battery is part of a system monitoring your energy needs. It does this using historical usage and forecasting how much energy you need now, and in the near future to work out how much energy to store away.
The results for customers are significant in reducing a home's dependency upon the national grid. Current smart solar and storage systems can result in a home being grid neutral for up to 8 months a year.
Like to learn how the system works then click the link to see how the smart system call myenergycloud actually works https://myenergycloud.com/home/inverter/SD1729P019/overview
Learn how to get your solar and battery storage system from Absolute Solar by contacting us now.