Absolute Solar are a UK wholesaler of AforeUK battery and inverters. AforeUK inverters and batteries provide solar panel installers with reliable and highly efficient renewable technology solutions. AforeUK's range of string and hybrid inverters provide robust, simple and cost effective inverters to meet the needs of UK solar panel installers. These batteries provide scalable energy storage solution for solar panel installers looking for. AforeUK provides the complete range of inverters and battery storage solutions for domestic installations. Absolute Solar are a well known stock holder of AforeUK Inverter & Battery Trade Supplier.
Afore String Inverters (HNS range) 1kW to 3kW
AforeUK string inverters are designed to increase energy independence for homeowners. The power range starts at 1kW up to 3kW and compatible with low voltage AforeUK battery packs. This makes them ideal for small residential installations.
HNS single phase inverters are ideal for smaller residential PV systems. Its unibody housing with anodised aluminium structure provides increased durability and efficiency in preventing corrosion.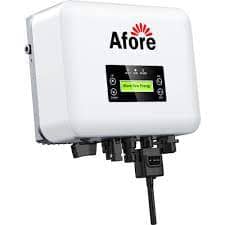 Performance
The performance of AforeUK HNS inverters is outstanding and as a cost-effective solution makes sense for installers to recommend them to their customers. With high maximum efficiency ratings of 97%, remote monitoring and easy installation, the performance of AforeUK string inverters is exceptional.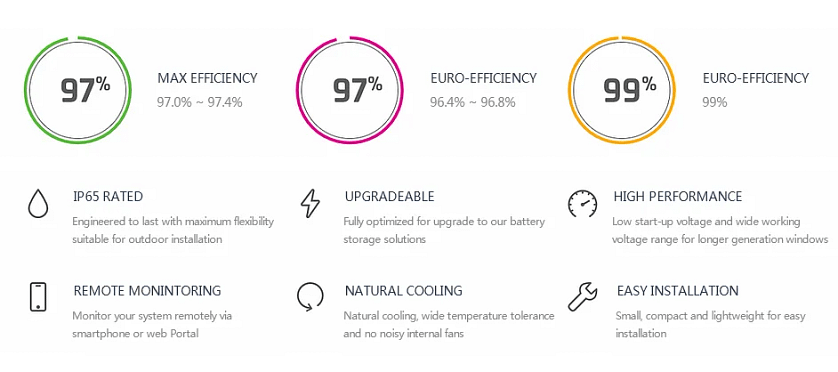 AforeUK String Inverters (HNS range) 3.6kW to 10kW
AforeUK single-phase MPPT 2-string inverters provide excellent performance for larger residential properties. As per the smaller inverters they come with a unibody housing with anodised aluminium for increased durability and effective corrosion prevention. They are also equipped with external inductors for efficient heat dissipation with improves reliability and extends the life of the inverter.
The inverter menu is activated by señor touch buttons. The communications implementation is via the included Wi-Fi dongle which enables remote system status checking via internet connection of the online monitoring platform. Simple to set up, and easy to use AforeUK 2-string inverters provide a cost-efective solution to solar panel installers looking for effective solutions in providing solar panels to large properties.
AforeUK String 3-Phase Commercial Inverters
AforeUK 3 phase string inverters are designed for residential and small commercial PV systems. Absolute Solar provides AforeUK 3 phase commercial inverters to cover battery storage from 10kW to 20kW. This provides an excellent solution for smaller commercial needs.

All models come with unibody housing with anodised aluminium for durability which effectively prevents corrosion. The AforeUK 3 string inverters are equipped with external inductors to ensure efficient heat dissipation, which improves reliability and extends life of the inverters.
AforeUK Low Voltage Hybrid Inverters AF, K-SL range
The AforeUK hybrid inverters are a series of low voltage storage inverters are designed to increase energy independence for homeowners. The power range is from 3.6kW to 6kW, comparable with low voltage (40-60V) batteries. Energy management is based upon time-of-use and demand change rate structures, reducing the amount of energy purchased from a national energy grid.
With a UPS function (switch time <10ms) enables crucial loads power on during outages. In addition under the backup operation mode the inverter provides up to 150% peak output overloading. The AF low voltage series storage inverters are integrated with ARC Fault Circuit Interrupter (AFCI) and rapid shutdown. AforeUK low voltage hybrid inverters provide excellent performance for solar panel system installers.
AforeUK Battery
Battery storage is now the most popular add-on to domestic solar panel array installation. AforeUK batteries are cost effect reliable and robust batteries for the UK market. Specifically designed to work with AforeUK inverters the AforeUK battery provides solar panel installers with a reliable cost effective wall fitted battery.
Absolute Solar Inverter and Battery Supplier
As one of the leading solar panel installers in the UK, Absolute Solar have been using AforeUK batteries and inverters for many years and have found AforeUK to be highly effective for solar panel and battery installers. As a cost-effective inverter and battery supplier Absolute Solar are a stockholder of the AforeUK range. Get in touch with Absolute Solar here to learn about our prices and delivery options:-
Contact us below for details.